Compared to business-to-consumer (BtoC) e-commerce, business-to-business (BtoB) transactions still have a long way to go to catch up and utilize the full potential of the Internet.
For a long time, BtoB transactions have mainly been via telephone and fax, and digitizing has not progressed.

Infomart Corporation has overcome these obstacles, accelerating these operations. We established and operate an online BtoB trading platform offering a multi-functional and efficient support platform.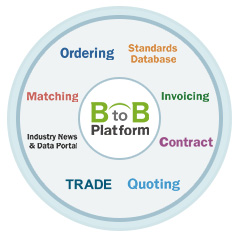 User company No.
732,673companies
Growth transition of BtoB platform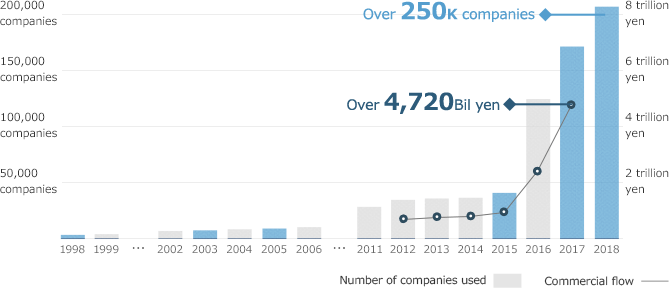 User companies
Showing the world we envision with our BtoB Platform
Commercial transactions between businesses in any industry can be conducted worldwide, such as selling and purchasing, providing and receiving quotations, issuing and receiving orders, sending and receiving invoices, as well as payments and deposits.

Until now, commercial transactions have been done by phone, fax, letter, or in person, costing time and money. Using our BtoB platform to conduct these transactions increases productivity, saves time, and lowers costs, leading to expanded sales and contributing to environmental conservation by going paperless.

We offer a system that transforms company management and business style. Our BtoB platform enables connections between companies, within companies, and between businesspeople.

Focusing on companies and people, we build systems and businesses that naturally go beyond industry borders and beyond national borders, with the aim of becoming a global BtoB platform company.
BtoB Platform Overview

The platform offers a one-stop digital solution for your business transaction needs, from winning customers, negotiations and quotations, issuing and receiving orders, through payments. It directly connects buyers and suppliers, leading to new business opportunities for both sides. With its range of functions, the BtoB Matching Platform can improve your company's sales and purchasing power.

By digitizing management of the entire ordering process, from issuing and accepting orders through invoicing, business operations can be streamlined and costs lowered. Any company regardless of industry or size can benefit from this platform that simplifies highly complex ordering processes. The platform has received considerable praise, and is already used by around 250,000 businesses for their daily transactions.

Our platform increases efficiency and reduces costs by providing data management of product standards, and comprehensive process management from order requests and submissions to specification changes. Further, by registering product information in industry-wide databases, information can be shared across an entire industry, significantly reducing the need for complex information processing. The BtoB Standards Database is already the most widely used platform in the food industry, as a tool to manage information related to the Trans-Pacific Partnership trade agreement, allergens, and more.

Companies in any industry, of any size, can benefit from this platform. Whether sending or receiving invoices, going paperless and digitizing invoicing saves costs and time, improves productivity, and is environmentally friendly. In addition to sending and receiving invoices, this definitive electronic invoicing service offers a variety of functions including payment notices, payment demand, and reconciliation.

This platform digitizes contract signing, management, and internal approval workflow to enable centralized management of contracts between companies online.
B2B Platform Contract ensures credibility and confidentiality of contracts with the latest blockchain technology. Transformation to paperless contracts enables swift contract conclusion, streamlines contract management, and significantly reduces costs previously required for revenue stamps and postage.

This platform provides online centralization of quotation-related services, ranging from the quotation preparation and issuance functions to storage of received quotations, confirmation of read/unread status, and question and response history management.
This facilitates smooth interaction with customers who tend to require complex quotation handling, and reduces the risk of miscommunication and oversights. The platform also helps to increase sales productivity and improve administrative processes.

The Industry News & Data Portal not only enables the acquisition of a wide range of data such as corporate news releases, information published under timely disclosure rules, and exhibition information, but also functions as an information gathering tool to stay up to date with the latest trends analyzed in various industry reports such as market sizes, value chains, future outlooks, and earnings results of major players by sector.
By registering companies and industries, related information is automatically organized in a list format and made accessible on a timeline, thus helping to generate business opportunities, formulate measures to counter rivals, follow up with customers, and strengthen sales capability.